The Institute of Medicinal Materials under the Ministry of Health studies that saponin triterpen composition of trisomy, ginseng and Ngoc Linh ginseng have 9 or 11 equal Rf substances, the same color in two different solvent systems.
The main representative of Ngoc Linh Ginseng Ginsenoside - Rb1, Ginsenosid - Rg1, Ginsenosid - Rd, majonosid-R1, majonosid-R2.
Wild trio still has the composition of GR2, G-RB1, G-Rg1 similar to Ngoc Linh ginseng but the rate is very low compared to ginseng (because the trio is a genus of ginseng).
It is because of this that testing the test form has the same composition as the ginseng but cannot determine if it is Ngoc Linh ginseng.
However, M-R2 could not be found in the trio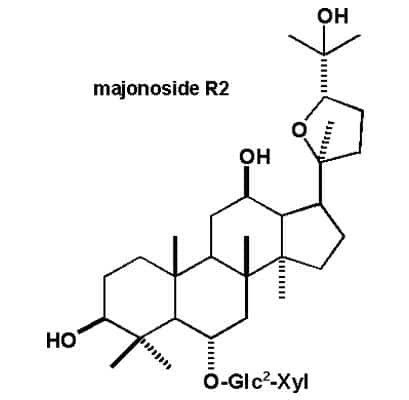 This is the majonside R2 active ingredient
Ngoc Linh Ginseng is really full of active ingredients GR2, G-RB1, G-Rg1 is much higher than many times. Especially majonosid-R2 (M-R2) accounts for 50% of the total saponin content of Ngoc Linh ginseng.

It is these ingredients that create value for Ngoc Linh Ginseng.